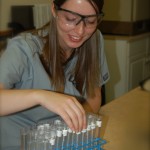 Safe drinking water is important to all Minnesotans, and although organic chemicals such as pesticides may get more attention, the most common drinking water contaminants that pose a threat to human health are nitrate and coliform bacteria.
In an effort to continually monitor the safety of Minnesota's drinking water, the Minnesota Department of Health recommends all wells be checked for nitrate, arsenic and coliform bacteria annually. Since testing private household water supplies is the responsibility of individual homeowners, it may be time for you to check your drinking water.
In addition, new wells dug by well drilling companies are also required to be tested for nitrates, coliform bacteria and arsenic. Real estate transaction loans, whether conventional, FHA, or V.A., require testing of well water as a condition of the mortgage.
Daycare businesses with private wells are also required to test their water annually as a licensing requirement.
We conduct on-site visits for water sampling, or we can provide you with a sampling kit to return to us for testing.
We make water testing fast and easy for you!